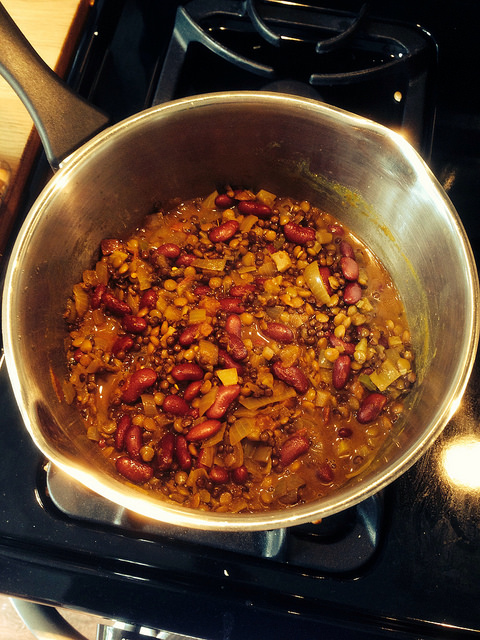 This is a modified variation of the popular Punjabi recipe Dal Makhani. I've added kidney beans, broth, and some modified spices.
Ingredients:
1 cup whole black lentils (these are essential)
1/2 cup red whole lentils (do not use split lentils, they turn to mush!)
1 cup red kidney beans (canned)
3 cups chicken broth (use water or less broth if you want)
1 cup water
1 tsp cumin powder
1/2 tsp red chili powder (any variety, cayenne or ancho powder for example)
[Optional fresh chopped spicy peppers if you like it hot or add more powder]
1 tsp turmeric powder
1/2 tsp paprika powder
1 medium size onion, chopped
2 medium size tomatoes, chopped
1/2 tsp ginger or ginger powder
4-5 garlic cloves, finely chopped
1 tsp garam masala
1 tsp Coriander (crushed or powder)
2 to 3 tbsp butter or ghee or oil
[Optional 2 to 3 tbsp full fat cream, or I use almond milk to avoid the fat…I actually like it with no cream or milk most of the time…your call]
salt as required although some broths can be pretty salty so be careful
Instructions:
Soak the both the lentils for a few hours
Add all the ingredients except the red kidney beans & cream
Cook on medium until lentils are cooked (soft but not too mushy).
Add water more broth or water during the process if needed, it should not be soupy but not dry either….
Add the kidney beans near the very end so they don't get too mushy
If you add cream or almond milk (you don't have too, I actually like it without), you can add it now and let simmer for a few minutes.
Feel free to garnish with coriander or cilantro leaves.
Serve with hot rotis, naan, or rice.
By the way, as time goes on the spices increase in flavour so you can optionally let it sit for awhile and reheat…
Also, the chicken broth might taste weird to some people so feel free to use water instead. I like for the sweet warm taste but most recipes just use water.