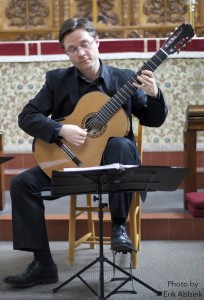 Guitar lessons in Victoria, BC, Canada, with Bradford Werner. All ages and levels are welcome. I aim for positive, productive, and well-rounded lessons. I teach at two locations, a private studio and at the Victoria Conservatory of Music located downtown Victoria. I teach a studio of 30 one-on-one lessons as well as chamber music coachings and classes. I mainly teach classical guitar but I also accept a number of other guitar students including fingerstyle acoustic. In additional to guitar lessons, I also teach music theory, history, and musicianship.
I enjoy teaching a variety of students from youth, post-secondary, to hobbyist adults. I've been teaching at the Conservatory for around 12 years and have been playing guitar for 26 years. I've adjudicated festivals, exams, and masterclasses for The Alberta Provincial Festival, Mount Royal University Conservatory, Calgary Guitar Society, and many more.  Although I specialize in classical guitar I love popular music from rock, folk, metal, and jazz. In addition to teaching I also perform professionally and have received financial assistance from the Canada Council for Arts.
Email: brad@bradfordwerner.ca
Benefits of guitar with Bradford
Weekly private lessons, masterclasses, and workshops
Ensemble playing opportunities
Performance opportunities (optional) for youth and adults
Friendly but productive lessons for all ages and levels
I'm a qualified teacher (AVCM teaching and performance certification)
My online resources help my students during the week
Classical Guitar Lessons 
I primarily teach and perform on classical guitar. The classical guitar is a nylon string instrument played with the fingers and has a musical history ranging from the Renaissance era to modern times, Latin and Spanish music, and many cross-over styles. Students of the classical guitar learn all the same things that pianists, violinists, and other orchestral musicians learn. It is likely the most versatile musical instrument in terms of styles and eras of music. My classical students also learn some popular music, chords, and improvisation as well. In the end, the classical students learn everything! I don't require my students to focus on "classical" music necessarily, once they have the skills of a good musician they can choose what styles or genres they wish to pursue. The educational benefits of the classical guitar teaching route create solid musicians that can read, perform, and tackle a variety of musical styles and situations.
Popular Guitar Styles
From nylons string to steel-string and electric. I teach a number of students who wish to learn popular styles (rock, folk, jazz, metal), chords, melodies, and fingerstyle guitar arrangements. As long as the student is interested in learning about how music works, basic reading skills, and is willing to play some set educational material on top of their own interests then I enjoy teaching them. I also really like for my popular style students to learn solo arrangements so they can perform solo if they choose. So many guitarists are left out if they don't play in a band or sing so learning some solo arrangements ensures they have something to play for others if they choose.
Teaching Philosophy
I teach using progressive methods that ensure the student successfully completes one goal before moving onto the next. This creates happy and productive students. I've created my own books and materials to ensure that both the student and teacher can clearly track progress and achievement in an enjoyable and educational environment. This is common practice in piano and string lessons but more rare in guitar pedagogy. It's important that both the student and teacher can see completed goals and progress because that is what makes lessons exciting and successful. Another major element in my teaching is to ensure the student develops positive and successful practice habits. Students need to practice well but they also need to enjoy practicing so the experience is rewarding, enjoyable, and encouraging. These are life lessons that can help students in many other areas of their life from study habits, schoolwork, and employment. I'm also particularly proud of how all my youth students present themselves in respectful, positive, and confident ways during lessons and public performances.
Adjudication and Exams:
I regularly act as an examiner for the Conservatory as well as adjudicate festivals such as the Alberta Provincial Festival, Mount Royal University Conservatory, Medicine Hat Festival, Northwest Music Festival, and many festivals in Western Canada over the past 10 years. Also, many of my students take both VCM and RCM exams between the levels of Grade 1 to ARCT. My students have, on numerous occasions, come in 1st place at the Victoria as well as the BC Provincial Festival competitions.
Also see my guitar blog (thisisclassicalguitar.com) for online lessons or quotations from students and parents.
---
More about Bradford
Originally from Nelson, British Columbia, Bradford now resides in beautiful Victoria where he teaches at the Victoria Conservatory of Music, The Fernwood Music Studio, and works as a freelance musician. Bradford teaches a studio of over thirty classical guitar students and ensemble classes with students ranging from youth to adults and post-secondary students in the Camosun College program. Bradford has adjudicated festivals, exams, and masterclasses for: The Alberta Provincial Music Festival, Mount Royal University Conservatory, Calgary Guitar Society, Victoria Conservatory of Music, Camosun College, Medicine Hat Rotary Music Festival, The Northwest Music Festival, The Whitehorse Rotary Music Festival, and many more.
Bradford studied with Ron Mulvey, Murray Visscher, Stephen Boswell, Wes RD Waggett and more. He has also played in masterclasses for Paul Galbraith, Roland Dyens, David Tanenbaum, Pepe Romero, Adam Holzman, John Schneideman, Michael Partington, Ron MacFarlane, Ana Vidovic, Jeremy Jouve, Thibault Cauvin, and many more. Bradford holds a diploma in music from Camosun College as well as certification as an Associate of the Victoria Conservatory of Music (AVCM) in teaching and performance. In addition to music studies he has a BA in history from the University of Victoria.
He is an active member of the Quelus Guitar Duo and the Victoria Guitar Trio with Michael Dias and Adrian Verdejo. The trio has twice been awarded Canada Council Grants for commissioning and production of a studio recording. The trio has commissioned numerous world premieres and are currently recording an album showcasing their commissions and contemporary Canadian music including works by Rodney Sharman, John Sherlock, Jordan Nobles, Benton Roark, Wolf Edwards, Scott Godin and more.
One of Bradford's most active projects is as editor and owner of the online publication This Is Classical Guitar – thisisclassicalguitar.com. This digital publication is read by thousands of subscribers and includes multimedia, articles, publications, and reviews. Here he has authored many pedagogical classical guitar books as well as vast amounts of sheet music editions. With over 100,000 page views per month this has become a very exciting project and sheet music business.
---
Additional Resources: