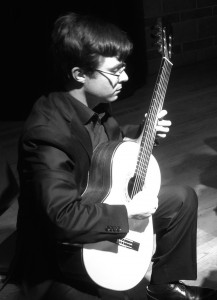 Bradford Werner 
Classical Guitarist, Instructor, Adjudicator
Bradford has adjudicated many large and small festivals, exams, and masterclasses including: The Alberta Provincial Music Festival, Masterclasses for the Calgary Guitar Society, Victoria Conservatory Examinations, Camosun College Examinations, The Medicine Hat Rotary Music Festival, The Northwest Music Festival, The Whitehorse Rotary Music Festival, and many more.
Contact email: brad@bradfordwerner.ca
---
Biography (promotional bio for media and programme use):
Originally from Nelson, British Columbia, Bradford now resides in beautiful Victoria where he teaches at the Victoria Conservatory of Music and works as a freelance musician. Aside from managing a studio of thirty classical guitar students he also coaches ensembles and regularly adjudicates festivals and exams. Many of Brad's students have won first prize in the Greater Victoria Music Festival and the BC Provincial Competitions as well as gone forward to post-secondary studies at colleges and universities.
Bradford studied with Ron Mulvey, Murray Visscher, Stephen Boswell, Wes RD Waggett and Alexander Dunn. He has also studied in masterclasses and at festivals with Paul Galbraith, Roland Dyens, David Tanenbaum, Pepe Romero, Adam Holzman, John Schneideman, Michael Partington, Ron MacFarlane, Ana Vidovic, Jeremy Jouve, Thibault Cauvin, and many more. Bradford holds a diploma in music from Camosun College as well as an Associate of the Victoria Conservatory of Music (AVCM) in teaching and in performance.
Bradford has authored many pedagogical classical guitar books as well vast amounts of sheet music editions. He is an active member of the Quelus Guitar Duo and the Victoria Guitar Trio with Michael Dias and Adrian Verdejo. The trio is currently focusing on new music commissions from Canadian composers as well as booking tours in Canada and abroad. The Quelus Duo is currently booking concerto performances with orchestras, premiering new works, as well as performing traditional repertoire. In addition to music studies he has a BA in history from the University of Victoria.
One of Bradford's most active projects is as editor and owner of the online publication This Is Classical Guitar – thisisclassicalguitar.com. This digital publication is read by thousands of subscribers and includes multimedia, articles, publications, and reviews. Personal Website: www.bradfordwerner.ca
(biography end – for promotional purposes)
---
Some Fine Print
AVCM (Performance/Teaching); Diploma (Camosun); BA (History, University of Victoria); Artistic Director – VCM Summer Guitar Academy 2008-2010; Examiner and instructional faculty member at the Victoria Conservatory of Music & Examinations for Camosun College; VCM Collegium Chamber Coach; theory and musicianship instructor for Sound Advice plus Guitar.