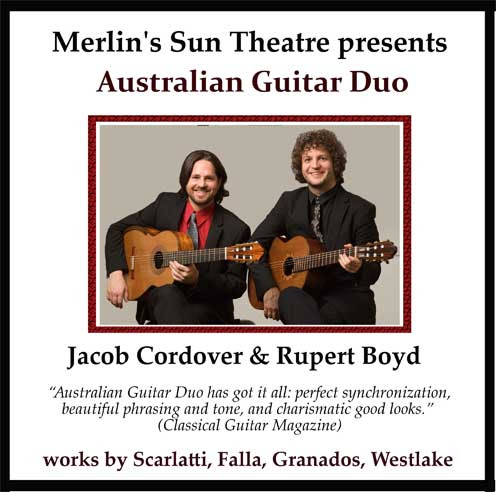 THE AUSTRALIAN QUITAR DUO
Jacob Cordover &Â Rupert Boyd
Tuesday, July 15
8pm / $20
Recognized as one of the most dynamic and exciting guitar ensembles, the "Australian Guitar Duo has got it all: perfect synchronization, beautiful phrasing and tone, and charismatic good looks." (Classical Guitar Magazine, UK).  The duo has performed throughout the world, including at the New York Guitar Duo Festival in New York City, Project Canción Española in Spain, Festival de musique classique in France, String-139 Festival in China, as well as numerous major cities throughout their native Australia.
http://youtu.be/lw3GaFcg1PIÂ Â – La vida breve by Falla
https://www.youtube.com/watch?v=RtpCRXJGuAYÂ Â – Fool on the Hill
www.australianguitarduo.com
Merlin's Sun Home Theater
1983 Fairfield, Victoria, B.C. V8S 1H5
for invitations:
timgosley@telus.net / (250) 598-7488
In respect of our neighbours please walk, bike, carpool, or park a distance from our house.
#7 Bus stops at Fairfield and Foul Bay.
We are about a block up the hill past Abkhazi Gardens and on the right.