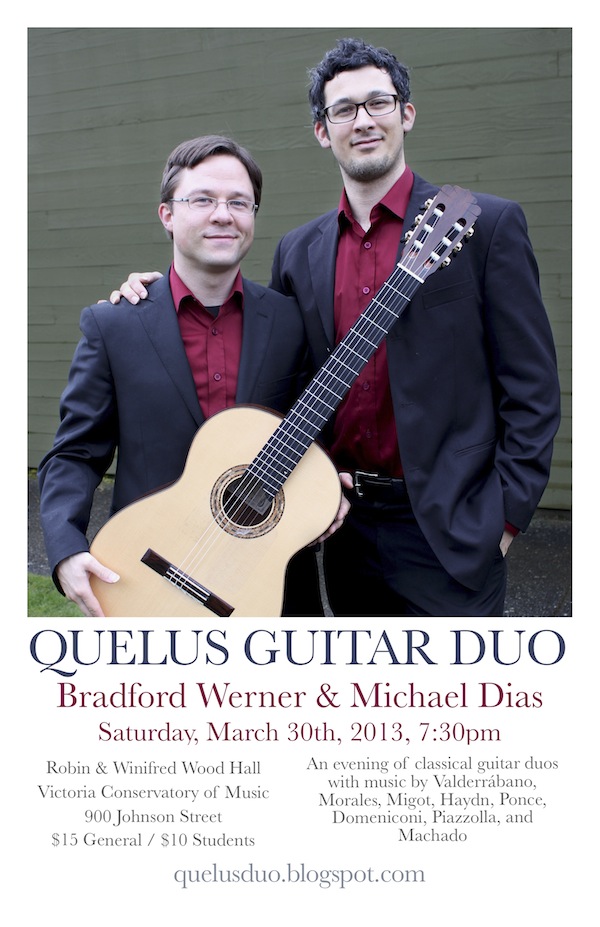 Quelus Guitar Duo
Bradford Werner & Michael Dias
Saturday, March 30th, 2013, 7:30pm
Tickets: $15 General / $10 Students
Robin & Winifred Wood Hall
Victoria Conservatory of Music
900 Johnson Street
An evening of classical guitar duos with music by Valderrábano, Morales, Migot, Haydn, Ponce, Domeniconi, Piazzolla, and Machado.
I'm very excited about this concert because not only do I get to play along with Michael, a great guitarist  but also a great friend. We've picked out some wonderful music and we'd be honoured to share it with you. It's a nice mix of beautiful lyrical works but also some really fun material. We've got some really hot cookers for end!
Join the facebook event page for some fun posts:Â www.facebook.com/events/253915584744821/
Please invite your facebook friends!
Our Website:Â quelusduo.blogspot.com
See the button below that says 'email', please email this post to your friends and known guitar enthusiasts!