Bradford Werner with Michael Dias (Quelus Guitar Duo)
September 30th, 2012, 2:00pm
Robin & Winifred Wood Recital Hall
Victoria Conservatory of Music
900 Johnson St, Victoria
Admission by donation.
A short and casual concert for classical and electric guitar. Join VCM faculty Bradford Werner and Michael Dias (Quelus Guitar Duo) to hear new additions to our duo programme and a few solos by Bradford. Michael and I are very excited to be preparing these new duos for classical guitar and I'm also looking forward to playing some new electric guitar works in the near future  so the Reich piece is in there to get me back onto the electric guitar.
Michael and I will be playing a full duo programme in the spring so keep an eye out for that. You can get emails about our concerts by signing up here:Â Subscribe to Bradford's Concert Newsletter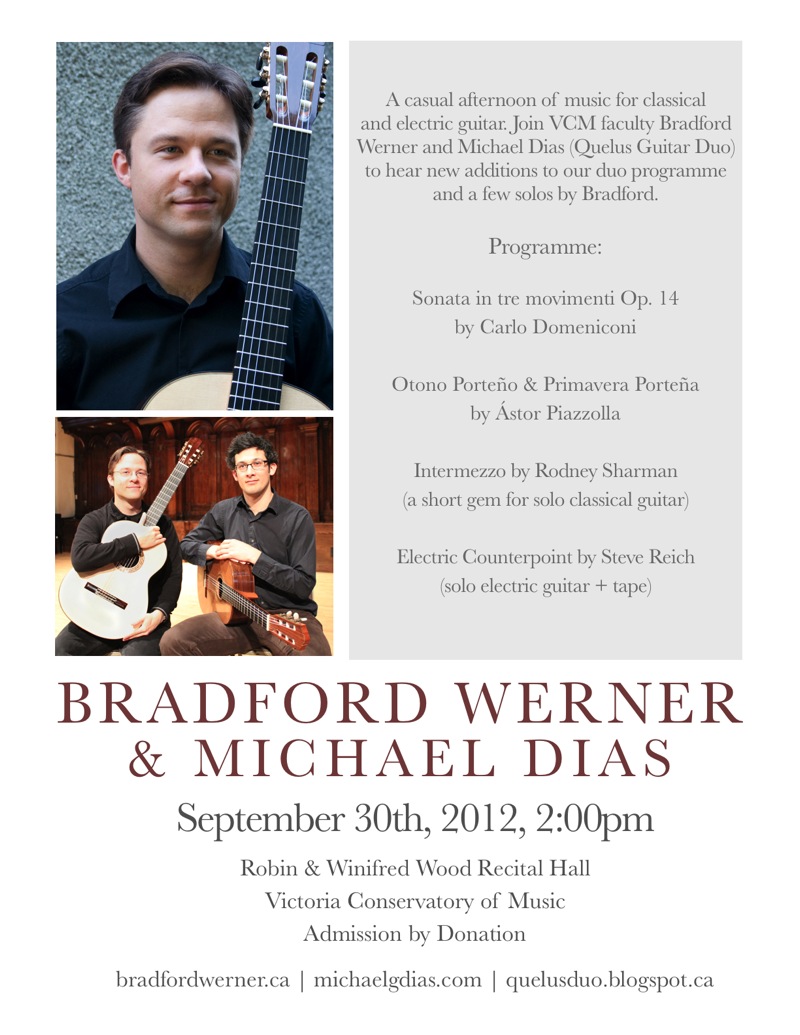 Programme:
Sonata in tre movimenti Op. 14 (dedicated to the memory of Manuel Maria Ponce) by Carlo Domeniconi (b.1947): A neo-classical/impressionistic duo for two guitars imitating the harmony and style of Mexican composer Manuel M. Ponce (1882–1948).  Domeniconi is an Italian guitarist and composer well known today for his very popular 1985 piece Koyunbaba for solo guitar. This duo was completed in Berlin, 1981. 12 minutes.
Otono Porteño & Primavera Porteña by Ástor Piazzolla (1921–1992): These arrangements by Fabio Shiro Monteiro, titled Otono (Autumn) and Primavera (Spring), nicely divide the ensemble aspect of Piazzolla onto two guitars. Piazzolla, a virtuoso bandoneón player as well as composer, was a leader in the creation of nuevo tango which blended elements of traditional Argentine tango with elements from modern classical music and jazz. 6 minutes.
Intermezzo (Weigenlied) by Rodney Sharman (b. 1958): A short gem for solo guitar by Vancouver composer Rodney Sharman. Here, contrasting rhythmic patterns in different voices compliment a delicate unfolding texture while also exploring the timbre of the instrument. Dedicated to guitarist Jürgen Ruck. 1.5 minutes.
Electric Counterpoint by Steve Reich (b.1936): For electric guitar and pre-recorded tape.  Originally written for jazz guitarist Pat Metheny and highlights Reich's 'minimalist' style with the popular sound of the electric guitar. Although composers generally avoid labeling their music with terms such as 'minimalist', it links the style with similar movements in the visual arts, design, and film. The tape part is played by Methany and can be obtained by loan from Boosey & Hawkes Publishing. 12 minutes.