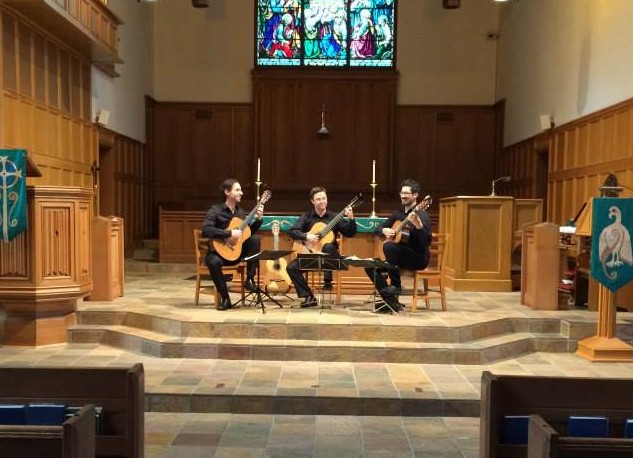 Victoria Guitar Trio
Presented by the Oak Bay Music Series
Venue: St. Mary the Virgin, 1701 Elgin Rd.
Sunday, March 22nd, 2015, 2:30-4pm
Advanced Tickets: $20/$15
Door Tickets: $25/$20
Victoria Guitar Trio (Adrian Verdejo, Bradford Werner and Michael Dias) in Victoria via the Oak Bay Music Series. Playing a mix of old and new works from the Renaissance and living composers of today on classical guitar. Multiple types of instruments in use!
Giovanni Pierluigi da Palestrina, "Kyrie" from Missa Papae Marcelli
Benton Roark, Mystic Veil (2014)
Jordan Nobles, Temporal Waves (2001/2013)
Claudin de Sermisy, Divisions on "Tant Que Vivray" (1554)
Scott Edward Godin, On Poetics (2014)*premiere
Suspended Waltz, Rodney Sharman, arr. Michael Dias
Josquin des Prez, "Mille Regretz" and "Kyrie" from Missa Mille Regretz (with Erik Abink, soprano saxophone), arr. M. Dias
Scott Edward Godin, Inside the Theodosian Walls
Some secret arrangements too!