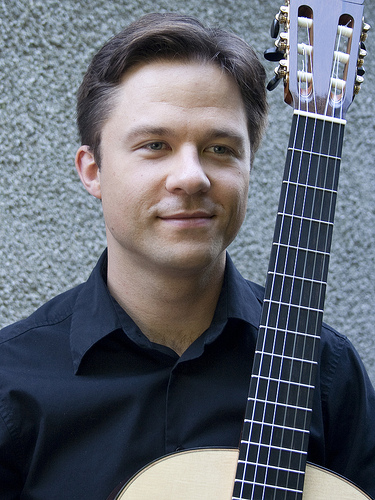 Hi, my name is Bradford Werner and I'm interested in music, classical guitar, history, and blogging. I live in beautiful Victoria, British Columbia, Canada but I'm originally from a small town called Nelson.
Music is my primary profession. I teach classical guitar at the Victoria Conservatory of Music and work as a freelance musician in both ensembles and solo projects.
I also study history with a focus on Asia and the Pacific Rim at the University of Victoria.
---
Music Biography
AVCM (Performance/Teaching); Diploma (Camosun); BA (History, University of Victoria); Artistic Director – VCM Summer Guitar Academy 2008-2010; Examiner and instructional faculty member at the Victoria Conservatory of Music; VCM Collegium Chamber Coach; theory and musicianship instructor for Sound Advice plus Guitar; member of the Victoria Guitar Trio and the Quelus Guitar Duo.
Bradford is editor and owner of Classical Guitar Canada, this is classical guitar, and the Practicing Musician. Brad has also authored two guitar method books: Classical Guitar: A Method for Students and Teachers Vol. I – II (see publications).
Bradford regularly adjudicates and judges festivals and exams in Canada. Please contact for rates and availability.
For media purposes or to check out what others have to say about me see:
Press and praise for Bradford Werner
---
Biography (promotional bio for media and programme use):
Originally from Nelson, British Columbia, Bradford now resides in beautiful Victoria where he teaches at the Victoria Conservatory of Music and works as a freelance musician. Aside from managing a studio of thirty classical guitar students he also coaches ensembles and regularly adjudicates festivals and exams. Many of Brad's students have won first prize in the Greater Victoria Music Festival and the BC Provincial Competitions.
Bradford mainly studied with Ron Mulvey, Murray Visscher, Stephen Boswell, Wes RD Waggett, and Alexander Dunn. He has also studied in masterclasses and at festivals with Paul Galbraith, Roland Dyens, David Tanenbaum, Pepe Romero, Adam Holzman, John Schneideman, Michael Partington, Ron MacFarlane, Ana Vidovic, Jeremy Jouve, Thibault Cauvin, and many more.
Bradford is an active member of the Quelus Guitar Duo and the Victoria Guitar Trio with Michael Dias and Adrian Verdejo. The trio is currently focusing on Canadian content and new music as well as booking tours in Canada and abroad. The Quelus Duo is currently booking concerto performances with orchestras premiering new works as well as traditional repertoire. Bradford is editor and owner of Classical Guitar Canada (www.classicalguitarcanada.ca), a blog which documents the Canadian guitar scene with the help of a growing number of contributors. Website: www.bradfordwerner.ca
(promotional bio END)
---
A little bit more about Bradford,
I began teaching in Victoria privately in 2002. A couple of years down the road I became a student teacher at the Victoria Conservatory of Music. I quickly built up a studio of young students and older enthusiasts. As a student teacher I had a limit to the number of students I could accept so I approached the late Dr. Walter Mony ( my department head at the time) requesting permission for more students. He suggested I become a full faculty member and with the additional recommendation of my teacher at the time, Alexander Dunn, I was hired as instructional faculty at the Victoria Conservatory. Since then I have coached ensembles such as the VCM Guitar Orchestra, Sound Advice theory, Collegium, and more.
In recent years I was the director for the Summer Guitar Academy 2008-2010, a member of the Dean's committee, and have become in demand as an adjudicator at local and provincial level festivals in Canada. Additionally, I examine for the Victoria Conservatory of Music examination system and for the Camosun College diploma program. I'm often hired based on personal recommendation and because of my willingness to spend extra time with students and community members at all levels. I've also entered the self-publishing industry – you can see my books here – and the blogging business with thisisclassicalguitar.com, classicalguitarcanada.ca, and the practicingmusician.com. If that wasn't enough, I've kept myself busy completing a history degree with a focus on Asian history at the University of Victoria.
In addition to teaching I'm an active performer. I play in two main groups: the Victoria Guitar Trio with Michael Dias and Adrian Verdejo and the Quelus Guitar Duo with Michael Dias. I'm also currently working on a solo program for classical guitar and a number of works for electric guitar.
I've also become a proud teacher of many great students. I teach all ages and levels but have had great success with teenage students. I've also been able to build a complete classical guitar studio by allowing the freedom of multiple styles on the nylon string guitar. I also really believe that students need the opportunity to get employment from their hard work (what could be better, the enjoyment of music and to get paid for it – $100/hour is better than flipping burgers!). I have encouraged and helped many of my students get set up to play gigs in Victoria.
My students have won many awards, you may want to check out my student showcase.
---
Contact: brad@bradfordwerner.ca
Snail Mail: 
Bradford Werner
1897 Foul Bay
Victoria, British Columbia
V8R 5A6 Canada