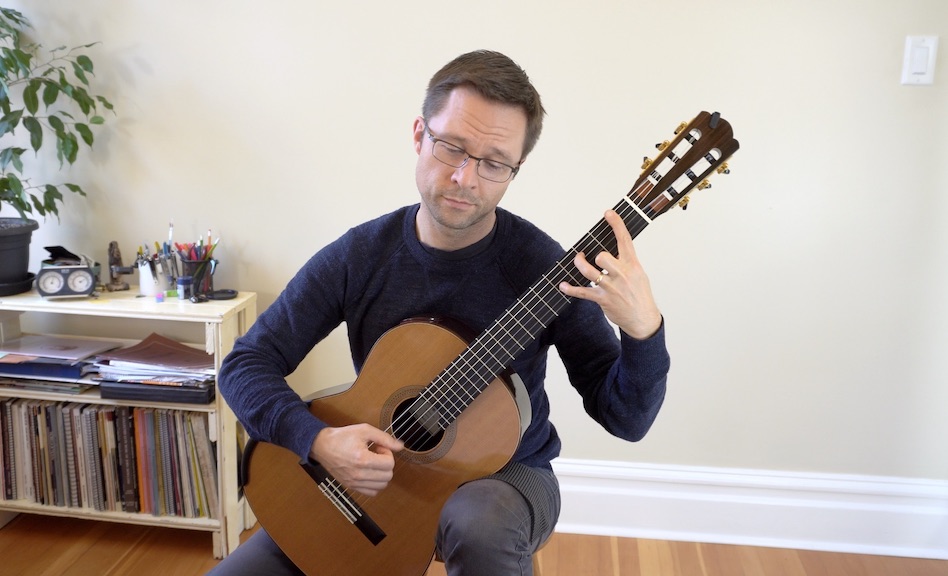 Classical guitar lessons in Trail, BC, Canada but also serving students in the Kootenays from Rossland, Castlegar, and Nelson. All ages and levels are welcome.
I recently moved to the Rivervale neighbourhood just outside of Trail after teaching and performing in Victoria for the past 20 years. I taught at the Victoria Conservatory for over 16 years and have adjudicated festivals, exams, and masterclasses for the Alberta Provincials, Mount Royal University, Calgary Guitar Society, Camosun College, and more. For my online lessons visit my lesson page on This is Classical Guitar.
I am currently not accepting new students but you can ask to be next on my waitlist.
Contact Me
Contact me to discuss lessons. It's a good idea to talk about the lessons first and make sure I'm the right teacher for you. Email: brad@bradfordwerner.ca
Also check out my partner Erin Frances Fisher who teaches piano lessons in Trail, BC.
About the Lessons
Lessons are positive, productive, and well-rounded. All students learn to read music notation, play ensemble music, engage with musicality, and use proper technique. However, even the best classical guitarist should be able to strum basic chord songs and play by ear a little so part of the lessons are dedicated to becoming a well rounded guitarist and musician overall. I'm a music educator so learning comes first but I try to make lessons as enjoyable and encouraging as possible.
Join Me
I enjoy teaching a variety of students from youth, post-secondary, to hobbyist adults. Every student learns at a different pace and responds in a unique way. I look forward to working through the learning process with all my students.
"I am always impressed by the dedication Brad shows to his students, and his care and creativity in teaching them. Fortunate students indeed, to study with such a fine mentor and musician." – Dr. Jamie Syer (pianist and former dean of the Victoria Conservatory of Music)

"Brad's smile of confidence, calm presence, and congratulatory word says it all. He quietly mentors, giving our intrepid now-teenage daughter inspiration in both a creative and practical sense. What would we do without him? He knows how to steer the ship, without appearing at the helm!" – Susan Donnecke (Parent)
Info on Classical Guitar Lessons
I primarily teach and perform on classical guitar. The classical guitar is a nylon string instrument played with the fingers and has a musical history ranging from the Renaissance era to modern times, Latin and Spanish music, and many cross-over styles. Students of the classical guitar learn all the same things that pianists, violinists, and other orchestral musicians learn. It is the most versatile musical instrument in terms of styles and eras of music. My classical students also learn some popular music, chords, and improvisation as well. In the end, classical students learn everything. I don't require my students to focus on "classical" music necessarily, once they have the skills of a good musician they can choose what styles or genres they wish to pursue. The educational benefits of the classical guitar teaching route create solid musicians that can read music, perform, and tackle a variety of musical styles and situations.