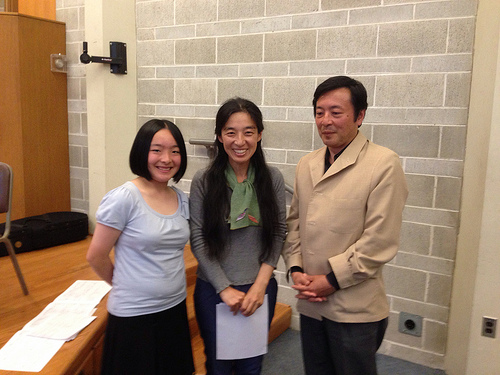 It was a wonderful two day workshop with legendary guitarist Kazuhito Yamashita and composer Keiko Fujiie (+ their daughter Kanahi). It was a personal honour for me to run the class as Kazuhito Yamashita has long been one of my most inspirational and respected musicians. The chance to interact with the Yamashita family both socially and in the workshop was truly a gift.
As Kazuhito explained, despite the many festivals he attends annually, he almost never gives a class or teaches. In fact it was said that this was one of the first few classes ever which was shocking! We all felt honoured to have had the chance to learn from him as well as from his wife, the composer, Keiko Fujiie. We are also very grateful to Gary Karr and Harmon Lewis who put me in contact with the Yamashita family and encouraged the class since they were here recording together.
The first day was a masterclass where each student played a movement from a Bach cello suite. The second day was a reading of three ensemble works written by Keiko Fujiie where Kazuhito and his daughter Kanahi Yamashita played with the group. The style of teaching was one of intense listening skills and care toward the music. The ensemble project was a look into Japanese traditional music as well as the compositions of Keiko Fujiie.
If I had to take one large lesson away from the experience it is this: whenever you play guitar you must listen in a sensitive and caring way to the music you are creating. There was very little talk about guitar technique but lots about listening. Listening in an active and passive way will help you feel the music and adapt. Everyone adjusted thier technique to their suggestions because once they started really hearing/listening carefully to the music thier hands knew what to do. There was also a great deal about having music in the home and the importance of caring for the music and integrating it into one's life.
I  thought the experience of playing Keiko's music was very fulfilling for the students. They had to rely on their musical instincts and not get too frightened of the score.
Here's the programme.
Classical Guitar Workshop with
Kazuhito Yamashita & Keiko Fujiie
June 19-20, 2013, 3:00pm – Wood Hall, Victoria Conservatory of Music
Kazuhito Yamashita is widely recognized as one of the world's premier virtuoso guitarists. His dazzling technique and powerful expression has received accolades throughout the world. With an impressive list of almost 80 recordings and numerous original arrangements of such works as Mussorgsky's Pictures at an Exhibition, Dvorak's New World Symphony etc., Yamashita is a living legend.
Keiko Fujiie is one of the most frequently performed and award-winning composers in Japan. After graduating at the Tokyo National University of Fine Arts and Music, she completed her postgraduate studies at the same institution. She is among the very few Japanese composers to have twice won the coveted Otaka Prize awarded by the NHK Symphony Orchestra for the previous year's outstanding composition; in 1995 for Beber for orchestra and in 2000 for Guitar Concerto No.2 "Koisucho".
June 19th: Cello Suite No. 1, BWV 1007 (orig. G Major)
by J.S. Bach (1685-1750)
Prelude – Scott
Allemande – Sofia
Courante – Simon
Sarabande – Troy
Menuet I & II – Marvin
Gigue – Brian
June 20th: Ensemble Project (music by Keiko Fujiie)
Sofia, Simon, Troy, Marvin, Brian
+ special guest: Kanahi Yamashita
Special thanks to: Gary Karr, Harmon Lewis,
Victoria Conservatory of Music, Victoria Guitar Society